The wiki about Ōkami that anyone can edit!

We have

6,628 pages

since February 2009! View them all here.
---
---
To write a new article, just enter the article title in the box below.

Please read through our RULES before editing.

Read the template project list for a list of important templates that should be added to articles. The list outlines the appropriate situations/places where each template should be used.

Not sure where to start?

Adding content

Every wiki has two list of articles that need help called "Stubs" and "Wanted Articles", and this wiki has many other categories for articles in need of help, which you can find at Category:Site maintenance.
Uploading images is another really easy way to help out - see the Special:Upload page!
You can find a list of useful templates on Category:Templates, some of which are documented on the templates project page.
Our wiki needs some cleaning up - and that's why some of the members started Project improve, to improve the wiki in phases. The current phase right now is Phase III, which is rewriting the article style a little bit (the rewriting is by the admins), and that's where YOU guys come in! Just use the SUBST: prefix on one of the templates in the Category:Page templates and save, then fill in the information where it says to! Any questions about Project improve can be directed to Clubchloe1. The to do list for it can be found here.

December 8, 2018

December 6, 2018

December 4, 2018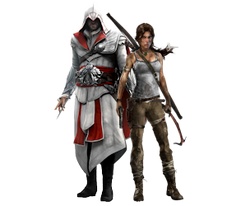 Action-Adventure Games
Go to these sites for info or for help with your own wiki!
ARK: Survival Evolved • Assassin's Creed • Bayonetta • The Binding of Isaac • Castlevania • Crackdown • Darksiders • Days Gone • Detroit: Become Human • Devil May Cry • Dragon's Crown • Fran Bow • God Eater • Grand Theft Auto • Gravity Rush • HITMAN • Horizon Zero Dawn • InFAMOUS • Just Cause • King's Quest • L.A. Noire • Last Day on Earth: Survival • The Last of Us • Legacy of Kain • Legend of Zelda • LEGO Dimensions • LEGO Games • LEGO Marvel and DC • Lightseekers • The Longest Journey • Mafia • Marvel's Spider-Man • Metal Gear • Monkey Island • Monster Hunter • Ninja Gaiden • No More Heroes • Ōkami • Prince of Persia • Red Dead • Senran Kagura • Sleeping Dogs • Splinter Cell • Subnautica • System Shock • Tomb Raider • Uncharted • Watch Dogs • Yakuza
Want your community included? See how!
See all of our Action-Adventure gaming wikis!