Expansion required
This article is too short to provide more than rudimentary information about the subject. You can help the
Ōkami
Wiki by
expanding it
.
Template:New Content
Kagu
is a girl or seedling-sprite with flower-petal ornaments, including a "whip" of petals that resembles a
Rosary
. She refers to herself as
"The most popular child actress in the land."
She also attacks with prayer slips that stun enemies, similar to
Rao
. She wears two different styles of clothes: Theater clothes and priestess-like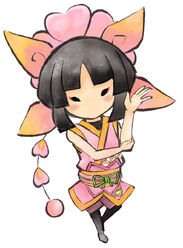 clothes(pictured). She seems similar to
Sakuya
, but she isn't as powerful and she doesn't seem to belong to a sacred plant of some kind.
See Also