---
This article is incomplete.
Reason: Detailed description of the book and its sections must be added.
Please feel free to add the missing information and fill in the missing sections.
PLEASE DO NOT ADD SPECULATION OR IRRELEVANT INFORMATION.
---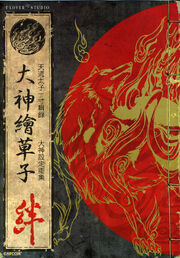 The
Ōkami Official Complete Works
(commonly referred to as the
artbook
) is a collection of artwork and background information from the production of
Ōkami
. The contents include large reproductions of many images from the game, as well as some post-production promotional art and discarded pre-production concepts. The book was originally published in Japan. In 2008, Udon Entertainment published an English-language version as
ISBN 978-1897376027
, retaining the original right-to-left format. Udon's English translations in the book are not always consistent with
Capcom
's English localizations of the game, but since both of them are ultimately based on the original Japanese version of the game, neither Udon nor Capcom is necessarily more "correct" than the other.
Gallery
Several pages of the Ōkami Official Complete Works: